New South Wales defence lawyer Steve Bolt suggested a line of defence to Cannabis users in early 2016. He offered that drivers in New South Wales should visit the Centre For Road Safety's web page, 'Drugs and Driving', and read the section that states, "Cannabis can typically be detected in saliva by an MDT test stick for up to 12 hours after use". They added the word 'typically' the day after the Police v Joseph Carrall case in Lismore when the Magistrate acquitted the driver for relying on the advice of police that he would be fine to drive within a certain time frame, and he wasn't.
"If you therefore wait at least 12 hours after using Cannabis you can reasonably expect it will not be detected, according to advice provided by the NSW government. A precedent has been set which could allow you to test this in court. The onus is on the prosecution to prove otherwise". But there is no guaranteed outcome as ultimately it is up to the Magistrate.
In drug testing in Australia, two standards are used as the basis:
AS/NZS 4308:2008 Procedures for specimen collection and the detection and quantitation of drugs of abuse in urine

AS 4760:2006 Procedures for specimen collection and the detection and quantitation of drugs of abuse in oral fluid
The steps in a drug testing process are:
The reliability of the result may be compromised by any of these steps not being performed properly. For example, a well performed test will never compensate for a poorly acquired or badly managed sample.
In

July 2013 accreditation of on-site drug testing of oral fluid (

AS 4760, Section 3

) was suspended by

the National Association of Testing Authorities (NATA)

due to significant technical issues with the standard.

NATA accreditation is a means of providing everyone with confidence in the competence of drug testing services through its third-party, peer assessment processes.
In

J

anuary 2016 Technical Annex 1, in regard to AS 4760 Section 3 On-site Initial Testing, stated; "Having conducted several assessments, it has become apparent that there are a number of significant issues with Section 3 of AS 4760:2006 which remain unable to be resolved. This is despite NATA seeking independent feedback to clarify these issues from key professional bodies including the Royal College of Pathologists of Australasia (RCPA), the Australasian Association of Clinical Biochemists (AACB) and from our counterpart organisation in New Zealand, International Accreditation New Zealand (IANZ).
Accordingly, NATA has not granted accreditation to any facility for AS 4760, Section 3 and a decision has now been made to withdraw the provision of accreditation for this testing. A communication to this effect was sent to NATA's stakeholders in July 2013. Until further notice NATA will no longer accept applications for accreditation in this area and any current applications will no longer be progressed".
The issues identified in relation to this testing include the following:
There are no prescribed cut-off concentrations for screening devices or set quality control limits as there are for urine screening devices as detailed in Appendix A of AS/NZS 4308:2008.

The target concentrations for screening devices ... are described as "nominated" in Section 1.5. This Section also states that "there is yet to be an accepted cut-off concentration" and that "concentrations higher than the initial testing target concentrations may sometimes be used if sensitivity is the limiting factor but this reduces the ability to detect drug use". Accordingly, a facility may nominate its own targets (but not lower than those used for confirmatory testing). Where the nominated targets are set higher ... by the facility due to the insensitivity of a screening device, false negative results may result, despite compliance with the Standard. This would be a key concern for both drug screening programs and the public.

The ability to test for drugs with known instability in saliva post collection, especially tetrahydrocannabinol (THC), is compounded by the allowance of "nominated" targets. The allowance of nominated screening concentrations at levels at or above the confirmatory concentrations may impact on the ability of confirmatory testing to reproduce a non-negative screening result due to loss of drug during transport and handling.

There are no acceptance criteria for what constitutes acceptable verification of screening devices as there are for urine screening devices as detailed published in Appendix B of AS/NZS 4308:2008.

The Standard requires quality control (QC) to be run. However, it is noted that the negative QC is defined as a drug free specimen. Such a specimen does not test the sensitivity of a device to identify donor samples which contain drugs at a concentration below the nominated target cut-offs. This is inconsistent with Appendix A of AS/NZS 4308:2008 which requires the below cut-off QC to be at a concentration between 25-50% below the cut-off concentration. The positive control is at or within 50% above the nominated concentrations. This is also inconsistent with AS/NZS 4308:2008 which requires the positive control to be between 25-50% above the cut-off concentrations.
"Whilst NATA will not consider granting accreditation for testing to AS 4760:2006, Section 3, agencies are still testing and claiming compliance with the Standard. It is NATA's view that this poses a significant risk to health and safety given the deficiencies as noted above".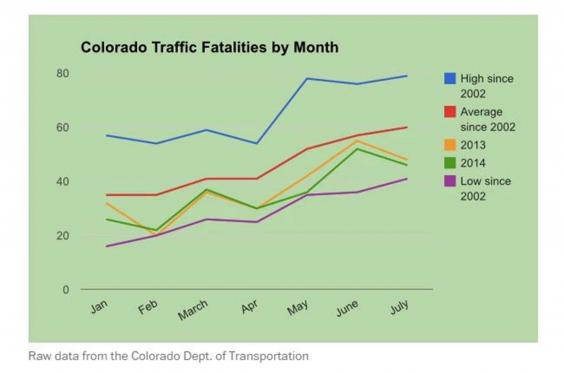 The best way to deal with Cannabis on the roads in Australia is to legalise, and to gauge the effect Cannabis legalisation can have on the roads, we need only look at what has happened since legalisation took effect in Colorado, US. A month-by-month comparison of highway fatalities in Colorado through half of 2015 and 2014 along with highest fatality figures for each month since 2002, the lowest for each month since 2002 and the average for each month since 2002. If Australian governments were serious about reducing deaths on the roads they would stop doing the same things over and over and expecting different results. We all know that is the definition of insanity. Let's reduce the road carnage, dispense with testing for Cannabis and relegalise it!
*Cannabis - Cannabis sativa L. is a member of the
Cannabaceae
family.
Cannabis
is the plant genus,
sativa
(Latin for 'cultivated') is the species (in many plant species names, e.g., rice is Oryza sativa L.), and the 'L.' (not always used) denotes the authority who first named the species, Carolus (Carl) Linnaeus, the Swiss botanist considered the 'Father of Taxonomy'. Cannabis sativa L., is; an annual, herbaceous - denoting or relating to herbs (in the botanical sense), usually dioecious - either exclusively male or exclusively female, or monoecious - having the stamen (male, pollen-containing anther and filament) and the pistil (female, ovule-bearing) in the same plant (hermaphrodite). Thus, as the Help End Marijuana Prohibition (
HEMP
) Party of Australia so rightly point out, Cannabis is a herb!
Adapted from;
Standards AU Presentation Dec 2013, Drug Screening Products-Services, How Long Does THC Stay In Your System, Drug Testing, Safer Behaviours - Drug Driving FAQs, Bulletin 7 Clinical and Medico-legal Implications of Drug Testing for Cannabis,
Roadside Drug Testing The Magic 12 hour Rule
, Human Cannabinoid Pharmacokinetics, Roadside Drug Testing Shouldn't Ignore The Commonly Used Drugs, Cannabinoid Concentrations in Spot Serum Samples 24-48 Hours After Discontinuation of Cannabis Smoking, Urinary Excretion Profiles of 11-nor-9-carboxy-∆9-tetrahydrocannabinol and 11-hydroxy-∆9-THC, Tolerance and Disposition of Tetrahydrocannabinol in Man, Differentiating New Marijuana Use From Residual Drug Excretion in Occasional Marijuana Users, Urinary Elimination of 11-nor-9-∆9-tetrahydrocannabinol in Cannabis Users During Continuously Monitored Abstinence, Oral Fluid Testing For Drugs of Abuse ..., ROSITA Roadside Testing Assessment, Drug Driving Law Fails Justice Test, The ABCs of Marijuana and Drug Testing, Detecting and Quantifying THC In Oral Fluids, Developments in Toxicology, Information Paper 10 - Workplace Drug Testing - a Guide to Industry